Guide to Studio Lighting Online Course
Course Description
A compressive online studio lighting course teaching you how to start a photographic studio and how to use professional lighting equipment for portraiture.
Through the course you'll be taught how to set up your own professional studio with limited space, equipment and budget. Learn various lighting set-ups with a variety of equipment to create beautiful portraits that can be made even in a home studio.
This course will show you what equipment to buy, and teach you how to use the flash lighting equipment you may already have properly, to get stunning visual results that will compete with any high-end portraiture.
It will save you time by giving you structured, professional learning with accurate knowledge that will tell you everything you need to know to start your studio lighting career.
Expensive equipment, big studios and professional models will not get you good shots. Your knowledge of the control of studio lighting, coupled with your creativity, will do that. This course will give you that knowledge without using unrealistic resources and ensure you take great portraits.
Take your photography further or start to earn money though studio portraits.
> Correct camera settings for studio lighting
> What a flash sync is
> The effects of various studio lighting equipment
> Recommended equipment for a starting studio
> Types of backgrounds & background support systems
> Lenses and focal lengths for portraiture
> Setting up a studio
> In-depth look at flash heads
> Syncing cameras to flash heads
> Using radio triggers and sync cords
> Using a light meter
> Controlling and balancing stops of light
> How to take exposure readings correctly
> Controlling one light
> How to control stray light
> Using reflected light
> Creating hard light
> Creating soft light
> Creating Low and High Key effects
> Using white, gold and silver reflected light
> Creating and controlling rim lighting
> Creating diffused light
> Using fill lights
> Using hair lights
> Using master and slave flashes
> Using ND filters for studio portraiture
> Using background lights
> How to balance background & foreground exposures
> Creating crisp white backgrounds
> Using a beauty dish
> Creating multiple lighting set-ups
> Using coloured gels
Who is this course for?
> Intermediate photographers looking to progress their skills and start in the world of studio portraiture.
> Photographers looking to earn extra income though family, children, corporate or other portraits.
> People with limited budgets and space.
> Photographers wanting to set up their own studio at home or in other spaces.
> Photographers looking to learn how to use studio lighting equipment properly.
✭✭✭✭✭
"the Studio Lighting class is truly excellent. Marc does a fantastic job explaining everything you need to know to achieve results. I highly recommend!." - Karla Livney – USA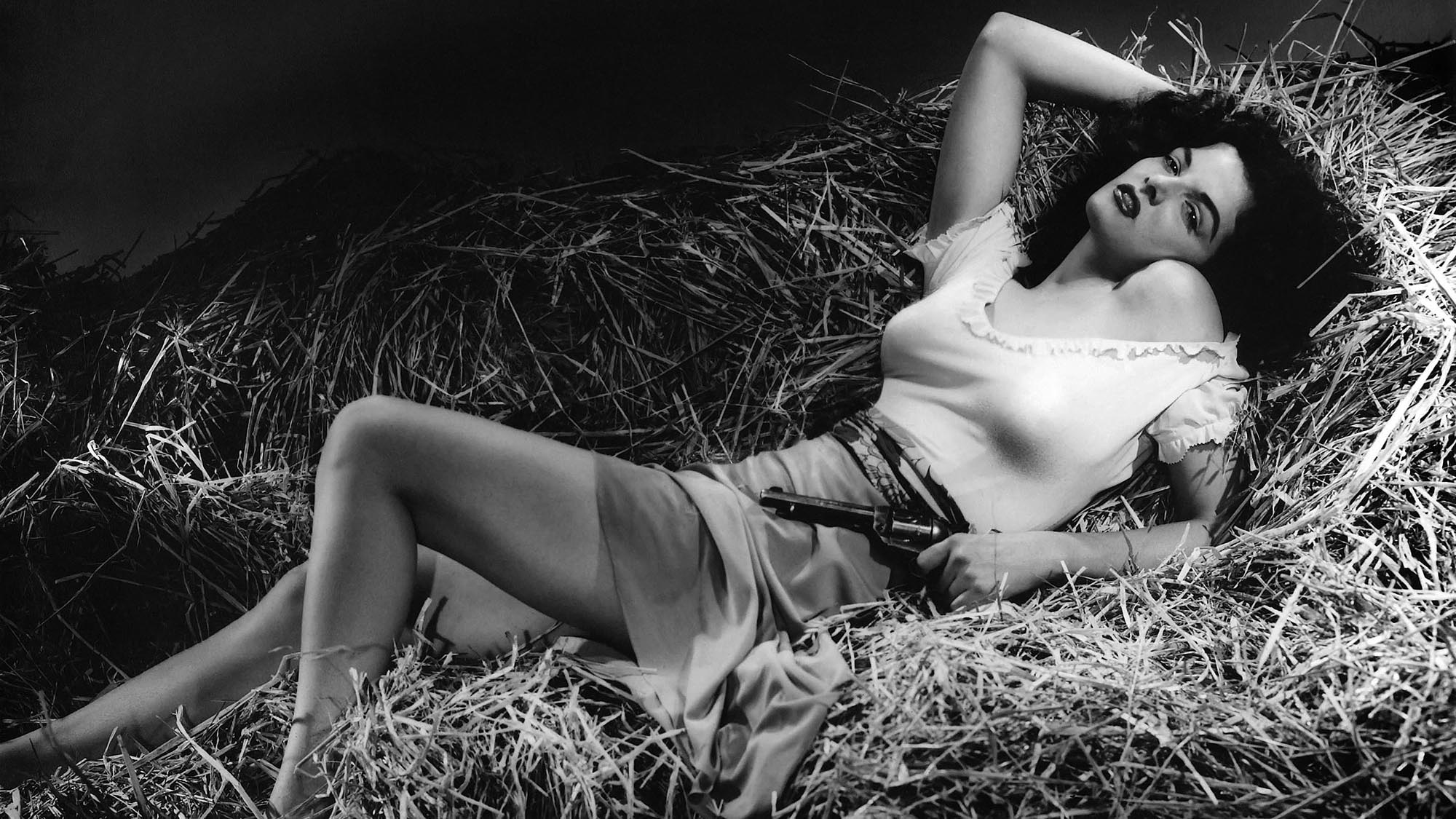 Lesson 1 - Introduction to studio lighting
An introduction to studio lighting, why you use it and the basic principles behind this type of photography.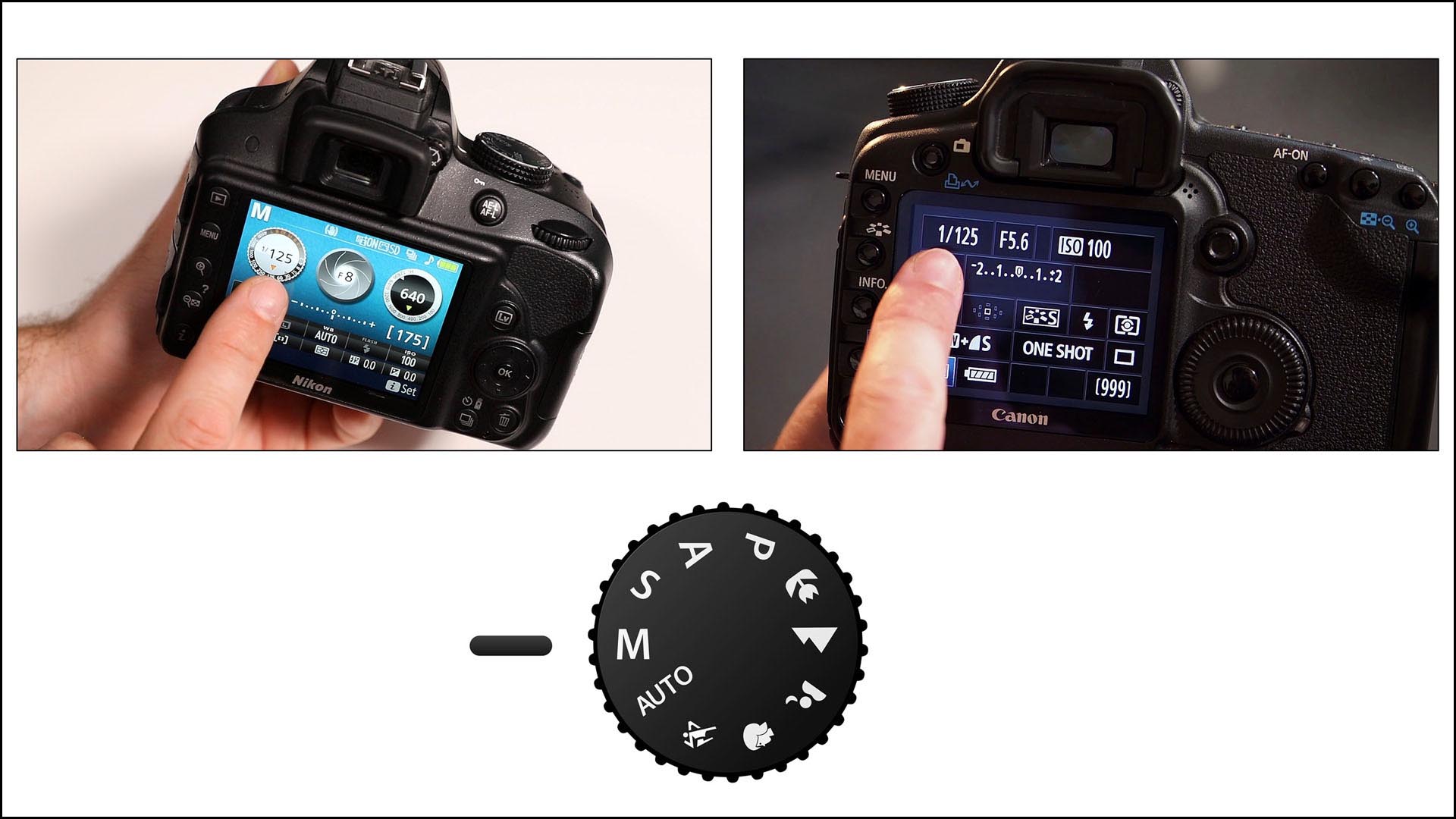 Lesson 2 - Setting up your camera
You have to work fully manual in a studio so here we look at how to set up your camera for optimum results in the studio. We'll look at shutter speeds, flash sync speeds, ISO, white balance and apertures.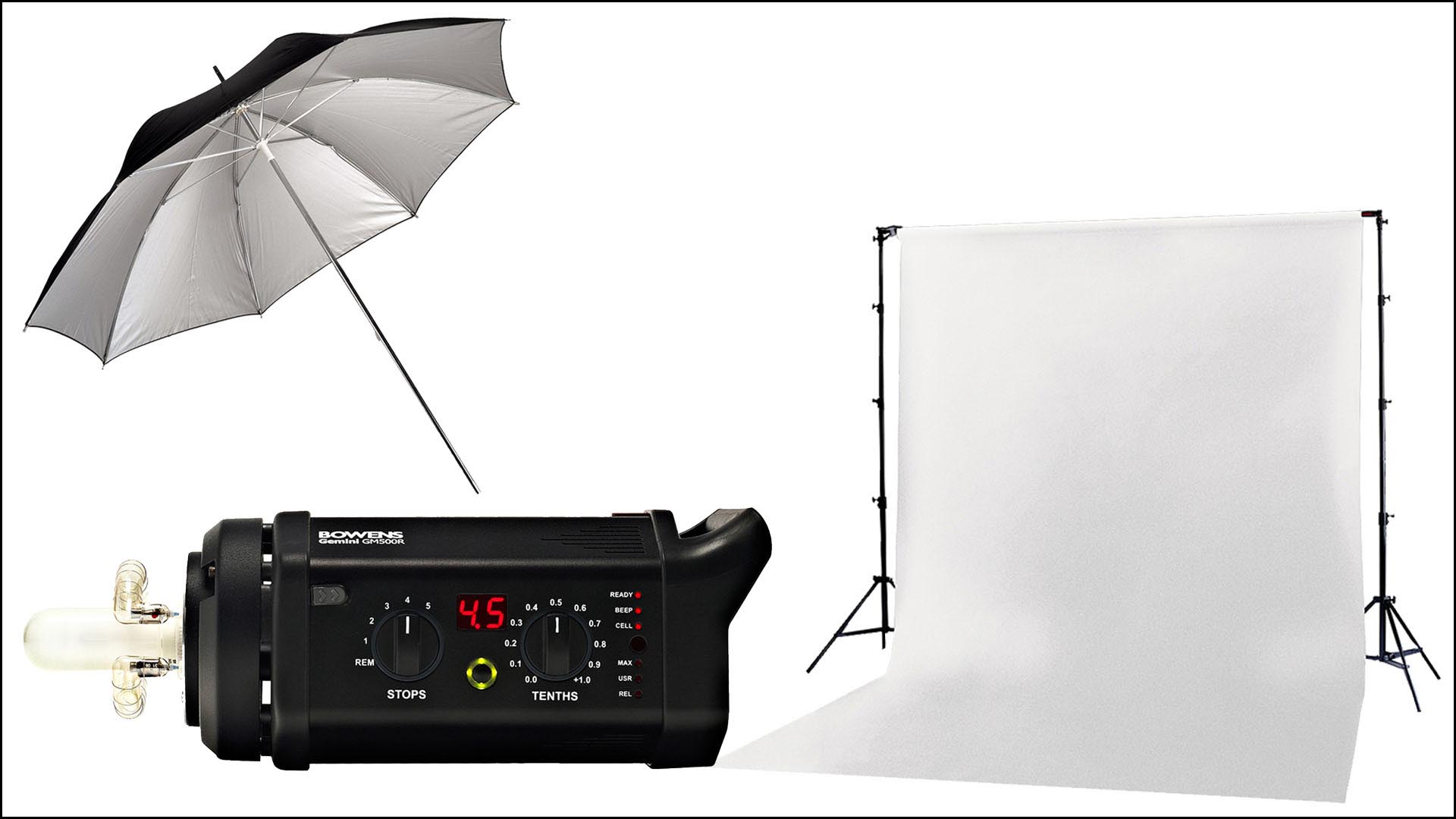 Here I'll show you various pieces of studio equipment and the effects they create. We'll look at different types of backgrounds and background support systems, and you'll get a recommended equipment list for a starting studio.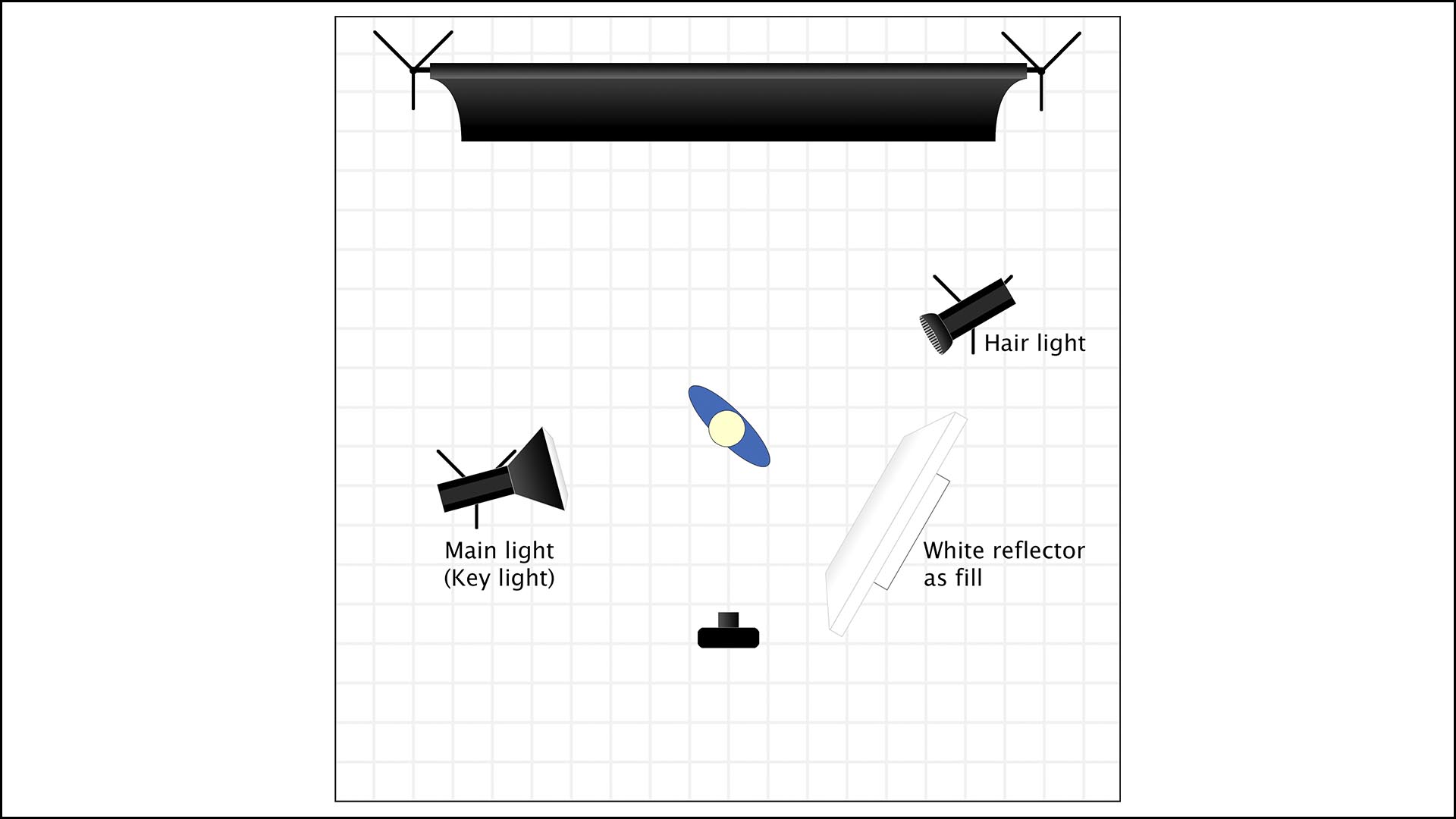 Lesson 4 – Setting up the studio
To make this course more relevant to the learning photographer, we'll be setting a studio up, from scratch, in a small space. You'll learn how to choose and set up a background, and we'll be taking a more in-depth look at flash heads, their settings, and the way they work.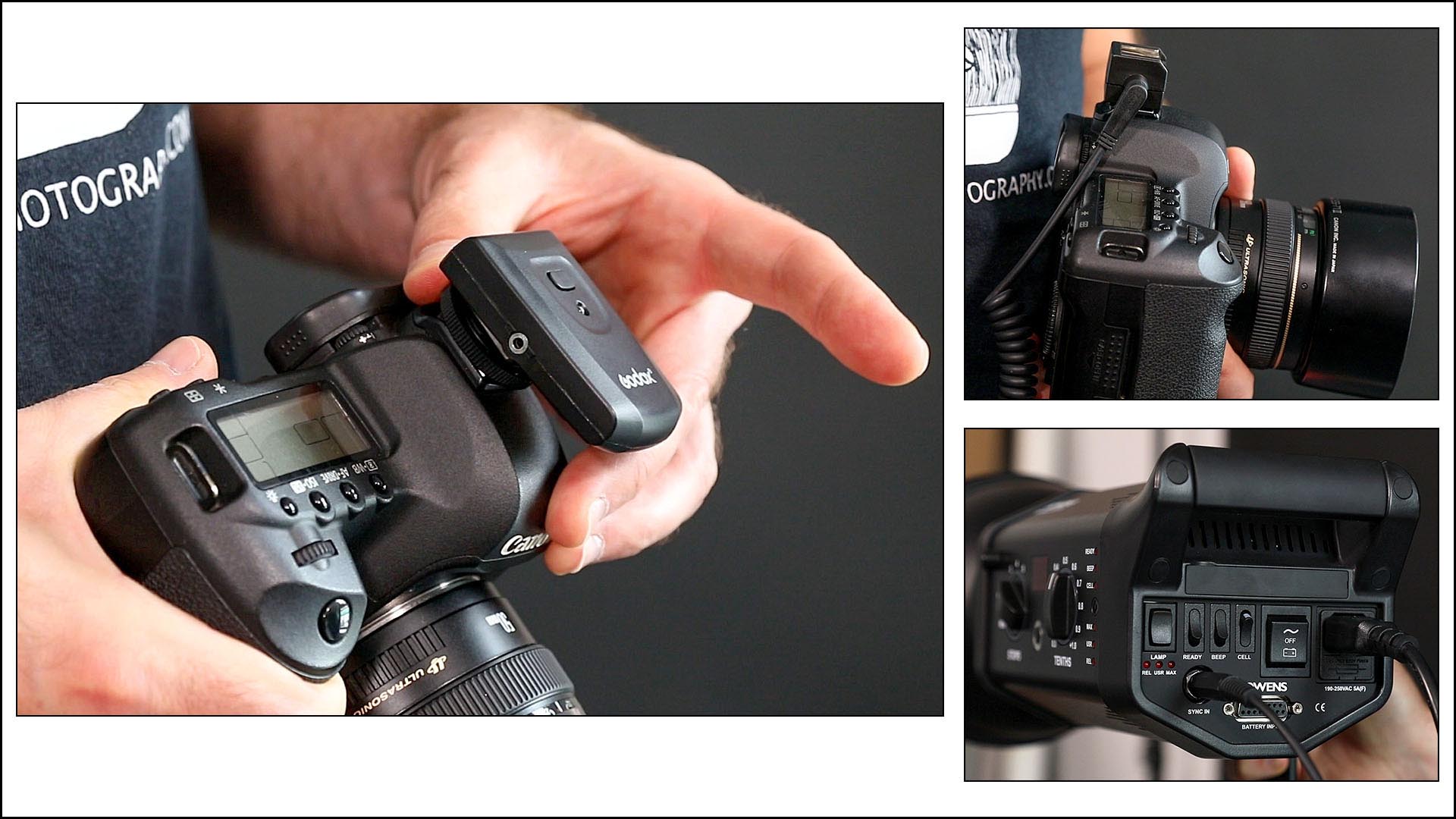 Lesson 5 – Connecting camera to flash heads
There are several ways to connect your camera to the flash heads. In this lesson you'll be taught the pros and cons between remote triggers and sync cords, and how to use them.
Lesson 6 – Taking meter readings, using one light, controlling stray light
Here's where we get into the studio and start to take control of just one light. You'll be taught how to use a light meter to take exposures manually and how to adjust the exposure using stops of light. You'll learn how to create hard light and what's called a low-key effect using black reflectors, and you'll be given tasks to get you shooting with control in the studio.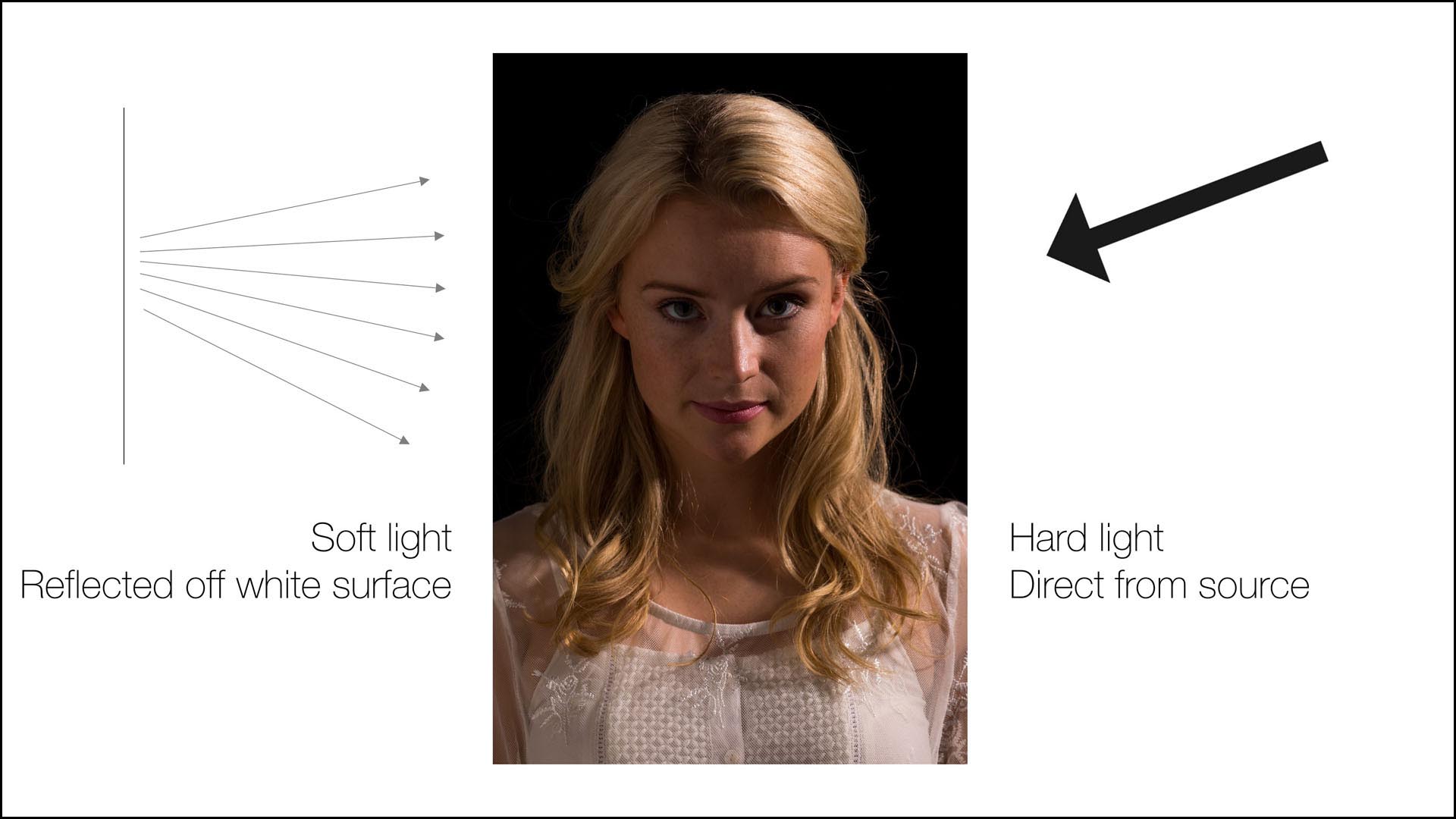 Lesson 7 – Using Reflected Light
In this lesson you'll look at the many different ways you can use reflected light in the studio. We'll look at tips around using reflectors when working alone and how to create variations of soft light using white, gold and silver reflectors.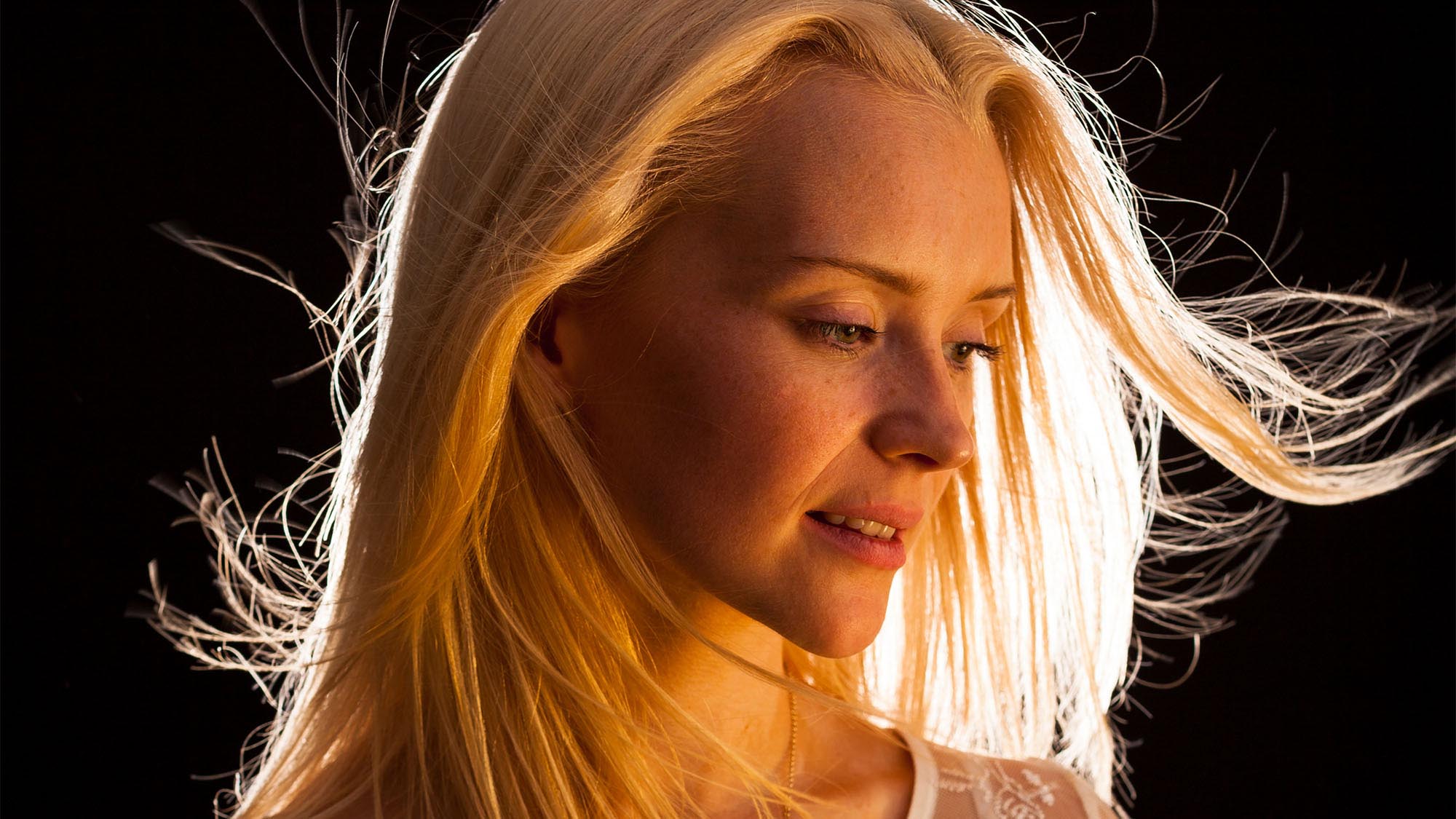 Lesson 8 - Creating and controlling rim lighting
Rim lighting is a technique used to create a rim of light around the model. Controlling rim lighting is a great technique to practice your control over hard, soft, direct and reflected light all at the same time. Here you'll learn how to do this and be given tasks to put it into practice!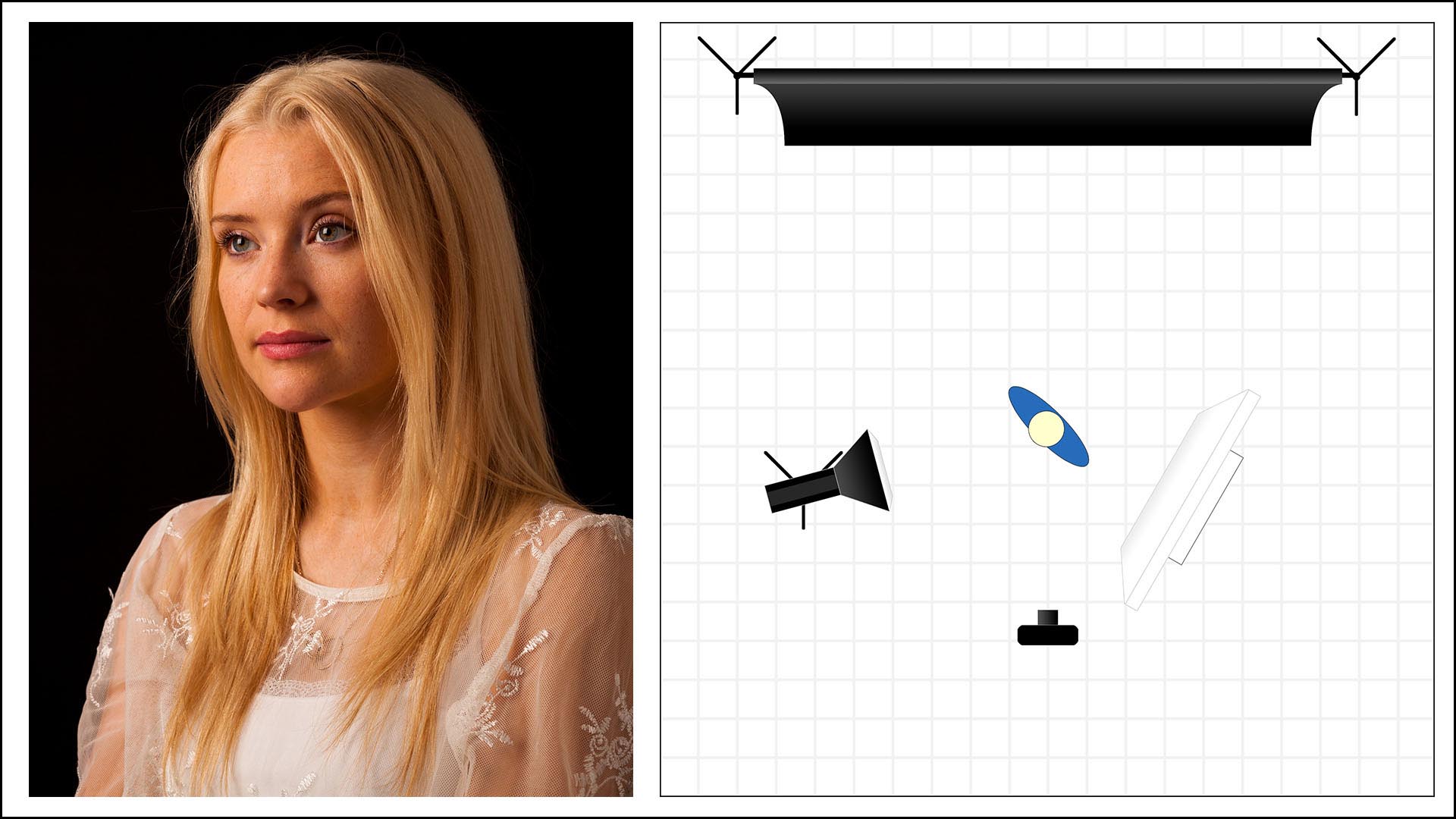 Lesson 9 – Creating diffused light
Diffused light is a really soft light and in this lesson, we will look at how to use soft boxes to create this. You'll be taught the pros of using soft boxes and how they are used to create great catch lights.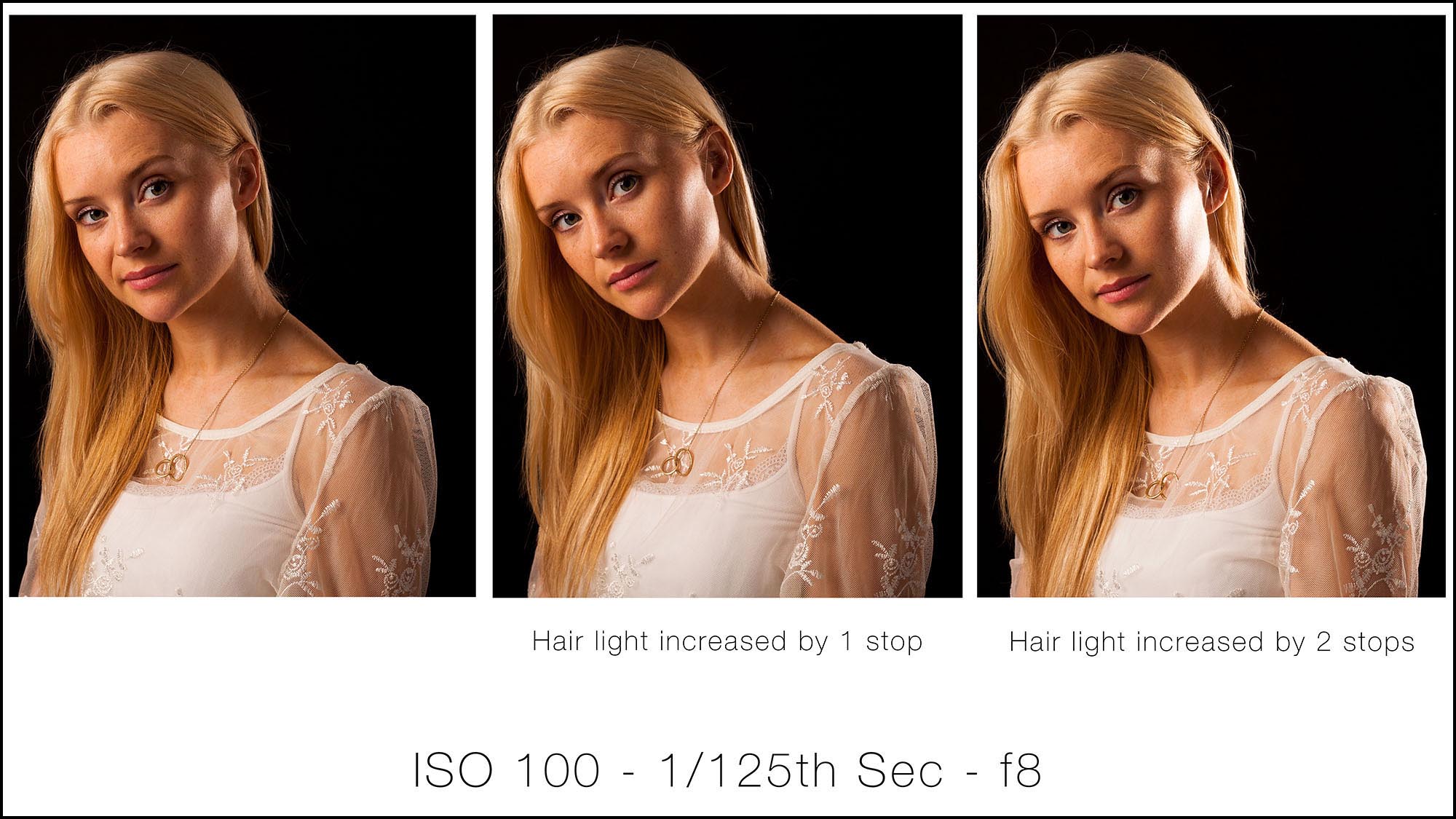 Lesson 10 – Introducing fill and hair lights
Here we'll look at introducing fill and hair lights. You'll be shown how to measure and balance the power of multiple lights for varied effects and look at how to use master and slave flashes when using multiple lights.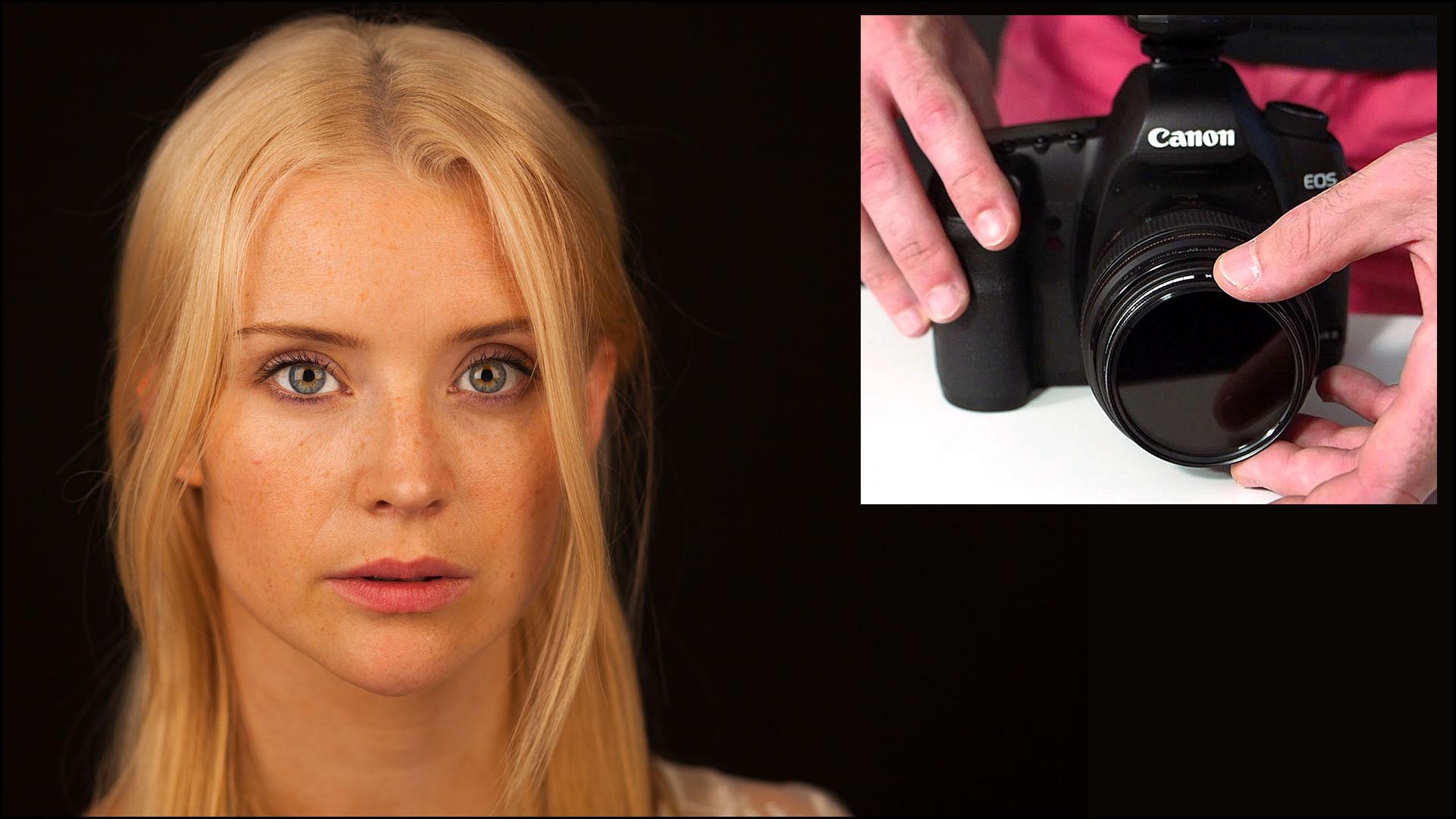 Lesson 11 – Even diffused light and using ND filters
In this lesson you'll be taught how and why you would use ND filters in a studio. You'll look at how to balance exposure via apertures, ND filters and the power of the light. We'll also take the diffused lighting set up one step further to create an ultra-soft look.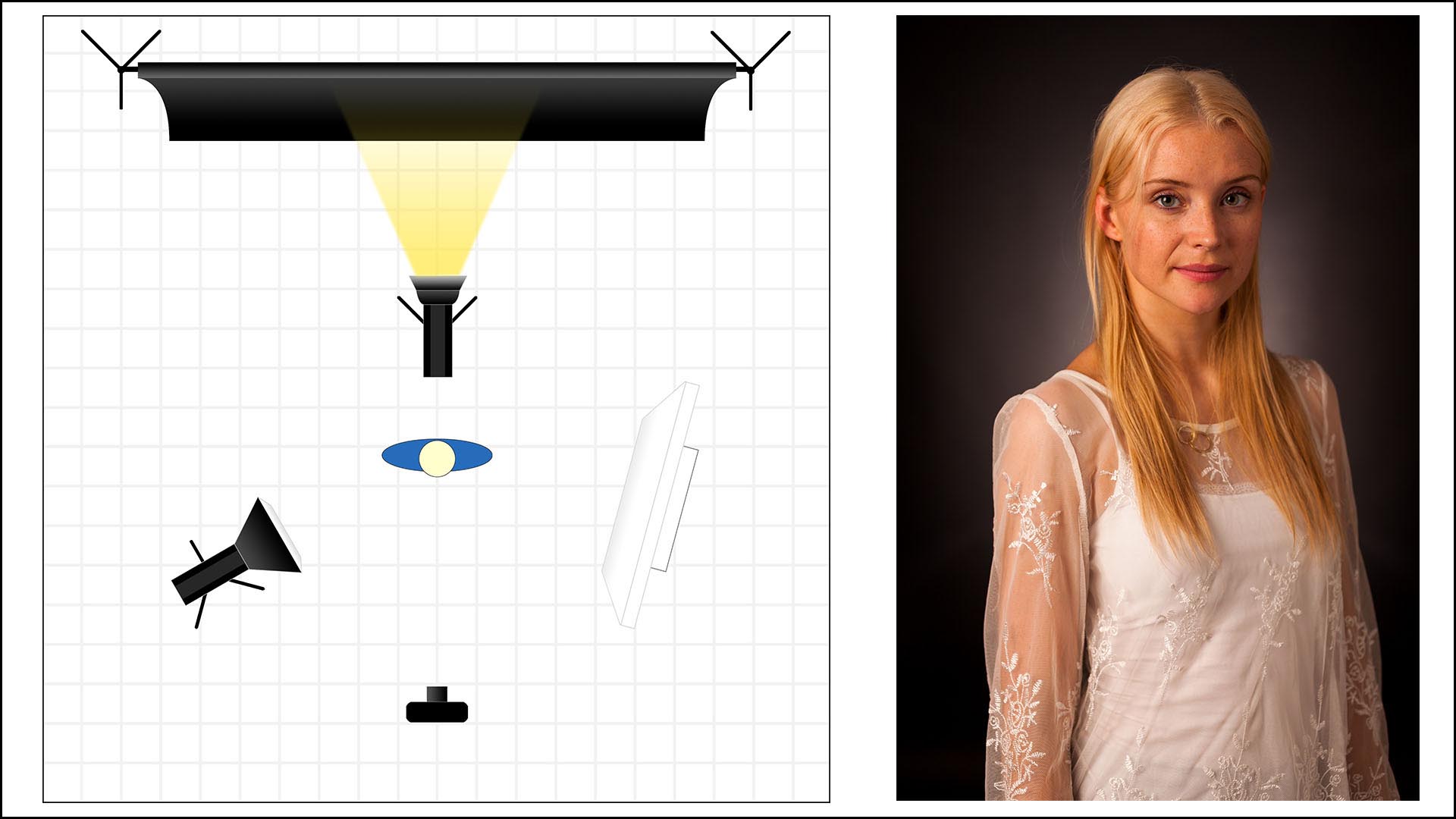 Lesson 12 – Using background lights
In this lesson we'll start to add background lights. You'll be taught various ways to create different effects using a background light and we'll also look at a classic corporate portrait set up.
Lesson 13 – Creating clean crisp white backgrounds
A common studio lighting effect is to create a pure white background. However, this effect is not as easy as it looks. Here you'll be taught how to balance the exposure between background and foreground lights to create this look.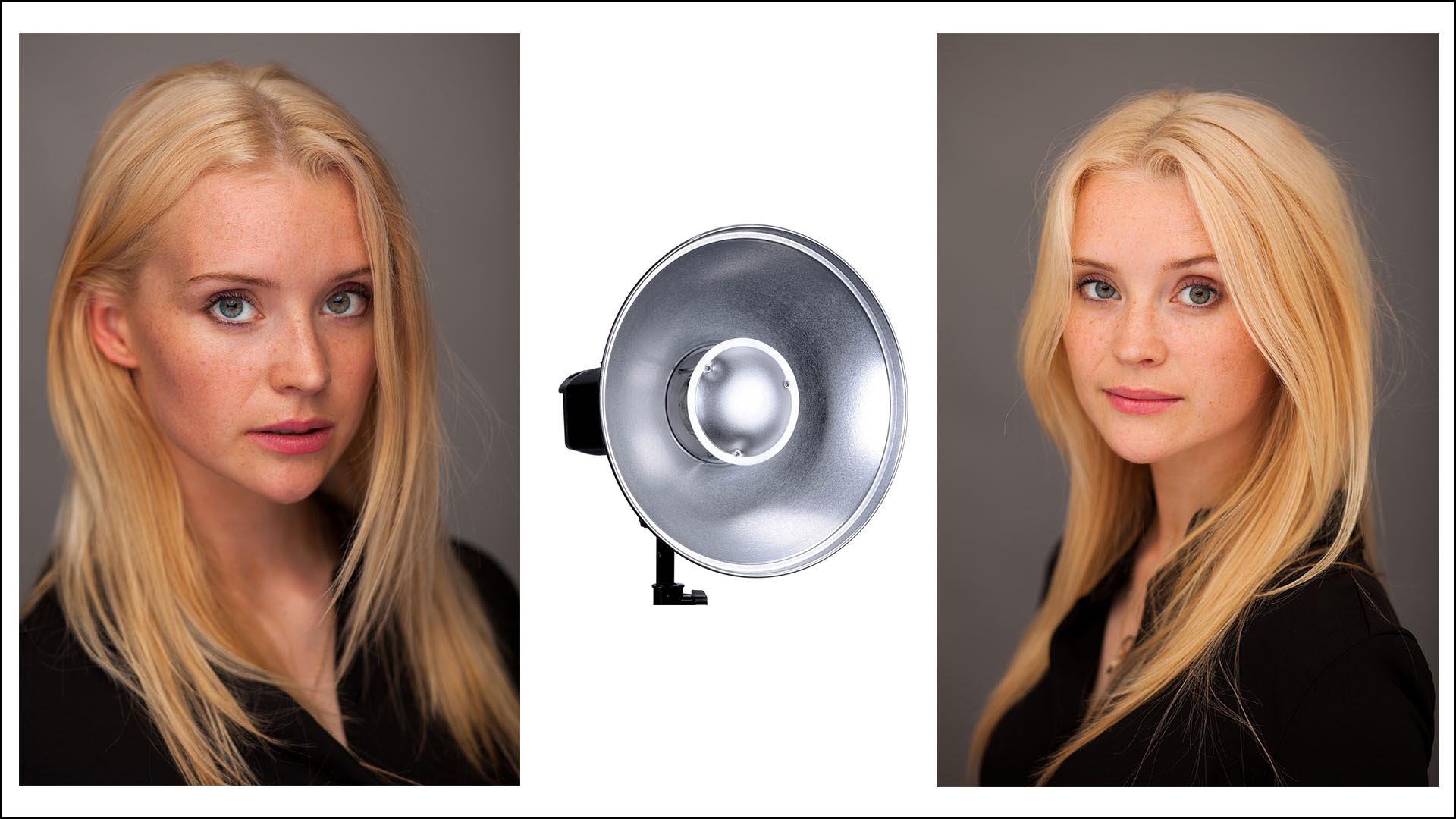 Lesson 14 – Using a Beauty Dish
A beauty dish is used a lot in fashion or model portraiture. In this lesson we'll look at the effects of beauty dishes and how you can mix this effect with reflectors to enhance subtle details in the face. We'll also be looking at how to create a neutral grey background without having one!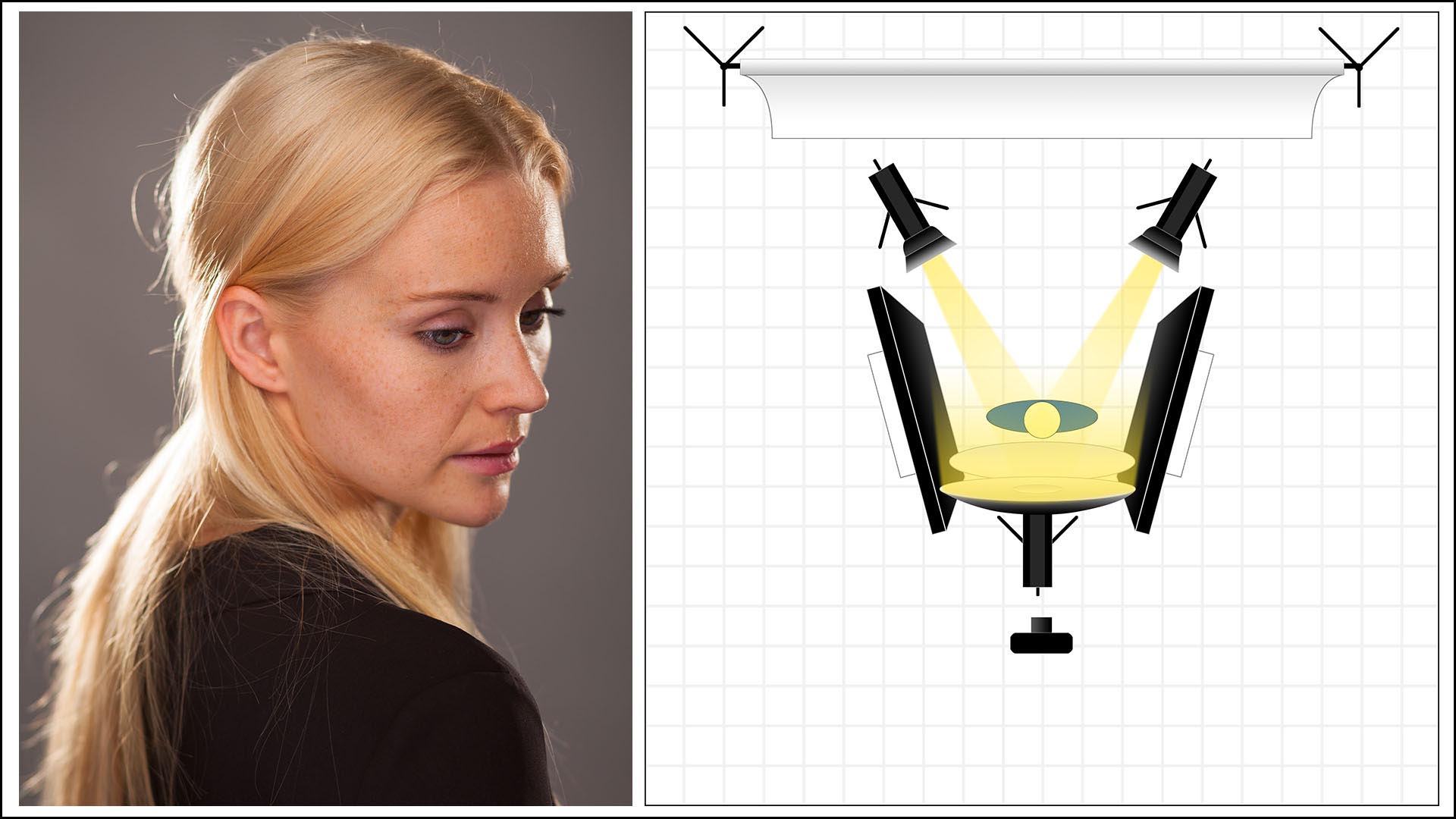 Lesson 15 – Multiple lighting set up
Once you've learnt how to control one light, you can control many. Here you'll look at a multiple lighting set up where we balance 3 lights together to create stunning visual effects.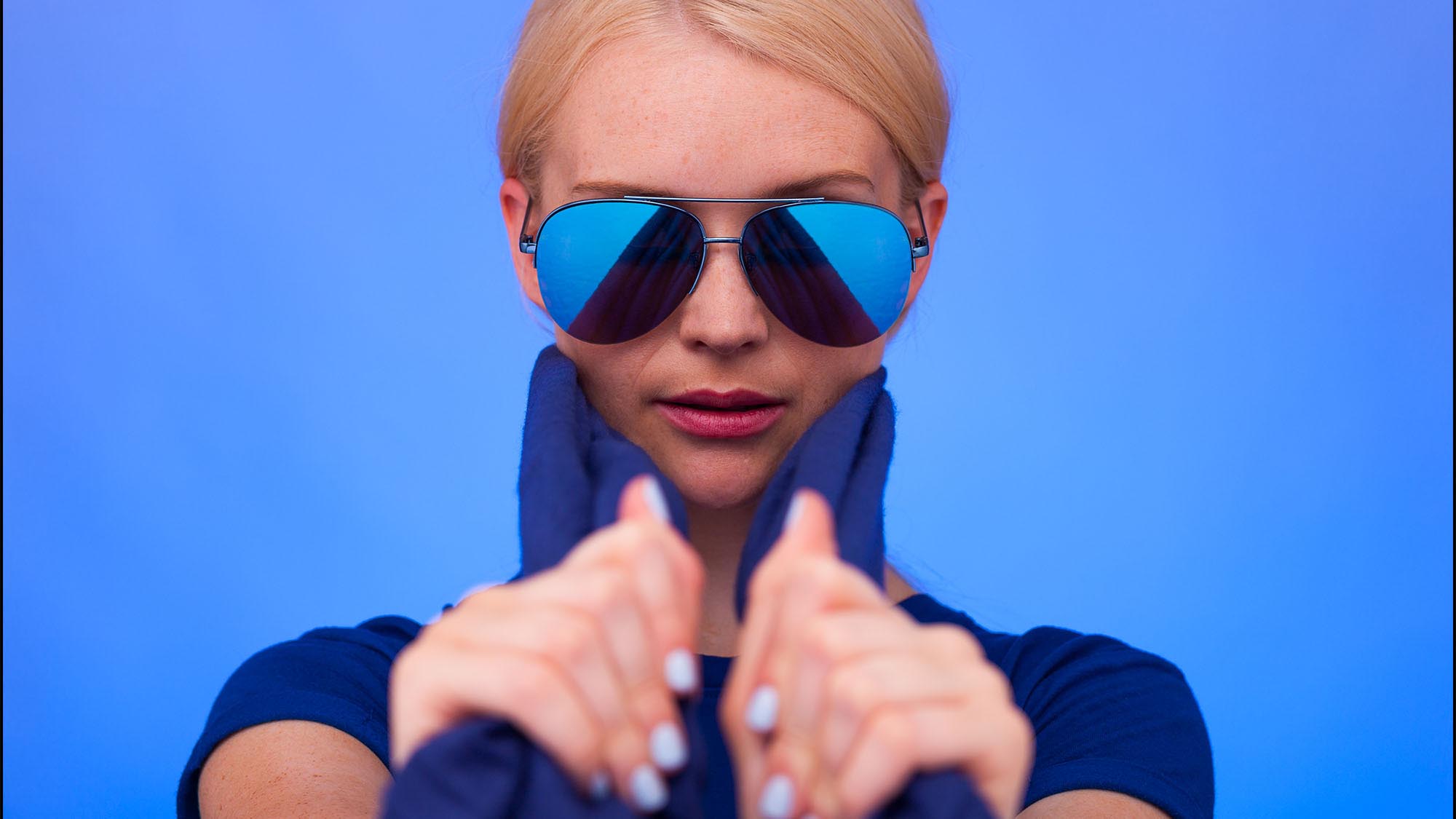 Lesson 16 – Using coloured gels
In this lesson we'll look at what coloured gels are and what they are used for. You'll be taught techniques on how to use gels and a few simple props to easily change the colour and mood of your imagery.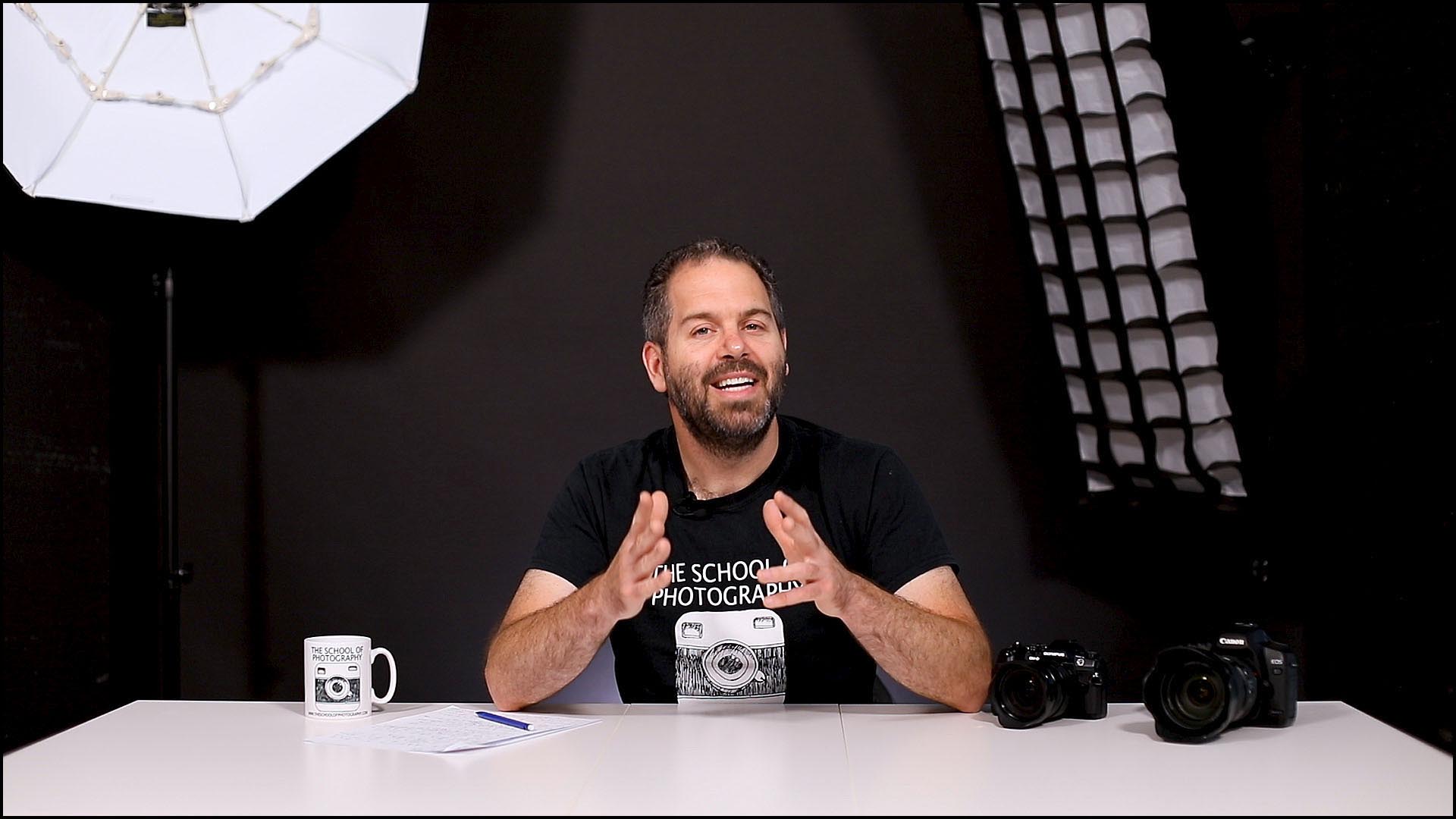 Lesson 17 – End and Recap
An end to the course. Here we'll be recapping on all the great stuff you've learnt and how you can take this knowledge further.
Reviews
✭✭✭✭✭
"The school of photography is great and I'd highly recommend anyone looking to learn and understand photography to sign up for this course. The videos are laid out brilliantly and Marc really knows how to simplify and break everything down so its easily absorbed. The pdf bulletins at the end of each lesson are a great way to recap and refresh your learnings….. I'm enjoying every bit of it!" – Mark Jenny – Australia
✭✭✭✭✭
"The School of Photography has the best, most effective explanation of photography I've found so far - Marc has the ability to take the same information I've been hearing/reading for years and explain it in detail that makes it completely understandable." - Daryl Hafele - USA
Rated 'Excellent' on Trust Pilot, Facebook and Google
Buying Options
Stream Only
The Stream Only option is a one-off payment that allows you to watch the videos as many times as you want for a period of 6 months.
Stream and Download
This option gives you 12 months access to watch the videos online and allows you to download them to keep forever.
Bundle Deals
Get 24 months access and save 30% by buying 2 Courses together or Get 30 months access and save 40% by buying 3 courses together – Click here for more details.
The PDFs in all options can be downloaded.
FAQs
What equipment do I need?
You will need a DSLR or mirrorless camera with a hot shoe and you will need a basic studio flash lighting kit. We recommend 3 flash heads at a power of 300W or above and some accessories.
Full details of equipment and a recommended equipment list for a starting studio are in Lesson 3 of this course. This gives you enough time to get any equipment you may need whilst you start Lessons 1 and 2.
What level do I need to be at?
This course is recommended for the intermediate photographer looking to branch into studio Photography. If you're a beginner, you can get this course with our Complete Guide to Photography for 30% off. Click here to get that offer.
I already have some Studio Lighting knowledge – will this course be suitable for me?
Yes! - The course is taught from the bottom up giving you the opportunity to start your learning from whatever level you're at. If you're totally new to studio lighting, start from lesson 1, if you're a bit more experienced dive in at a later lesson, it's up to you!
Can I use Continuous Lights / LED lights for this course?
No, continuous lighting is not really suited to studio portraiture. This course is based around flash lighting.
What's the difference between 'Stream and Download' and 'Stream Only'?
Please see 'Buying Options' above.
What's the cost in my own currency?
The courses are priced in British Pounds and US Dollars. On checkout it will show the cost in British Pounds and will be converted into your currency when purchased. To get an accurate cost in your own currency click here to use a Currency Converter. NB. US dollars quoted are as close as possible and updated on a monthly basis.
Do I get a certificate with this course?
Yes - On completion of all our all courses, you receive a certificate from The School of Photography.
Warning – The videos contain sudden flashes.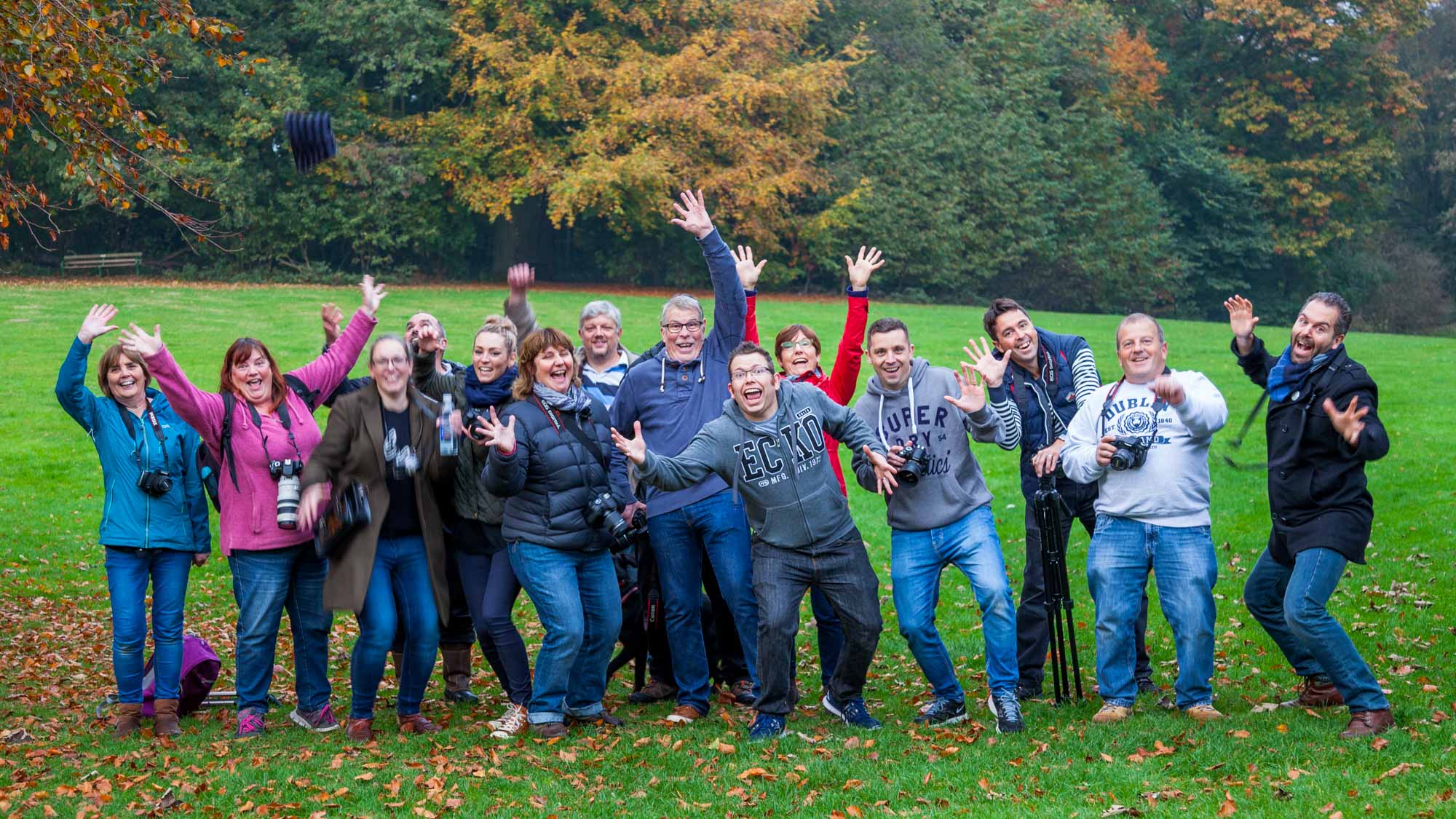 Become part of our learning community
Join 1000's of others on our Facebook Page and YouTube channel. Ask questions, share your work and interact with other learners in our private members Facebook group.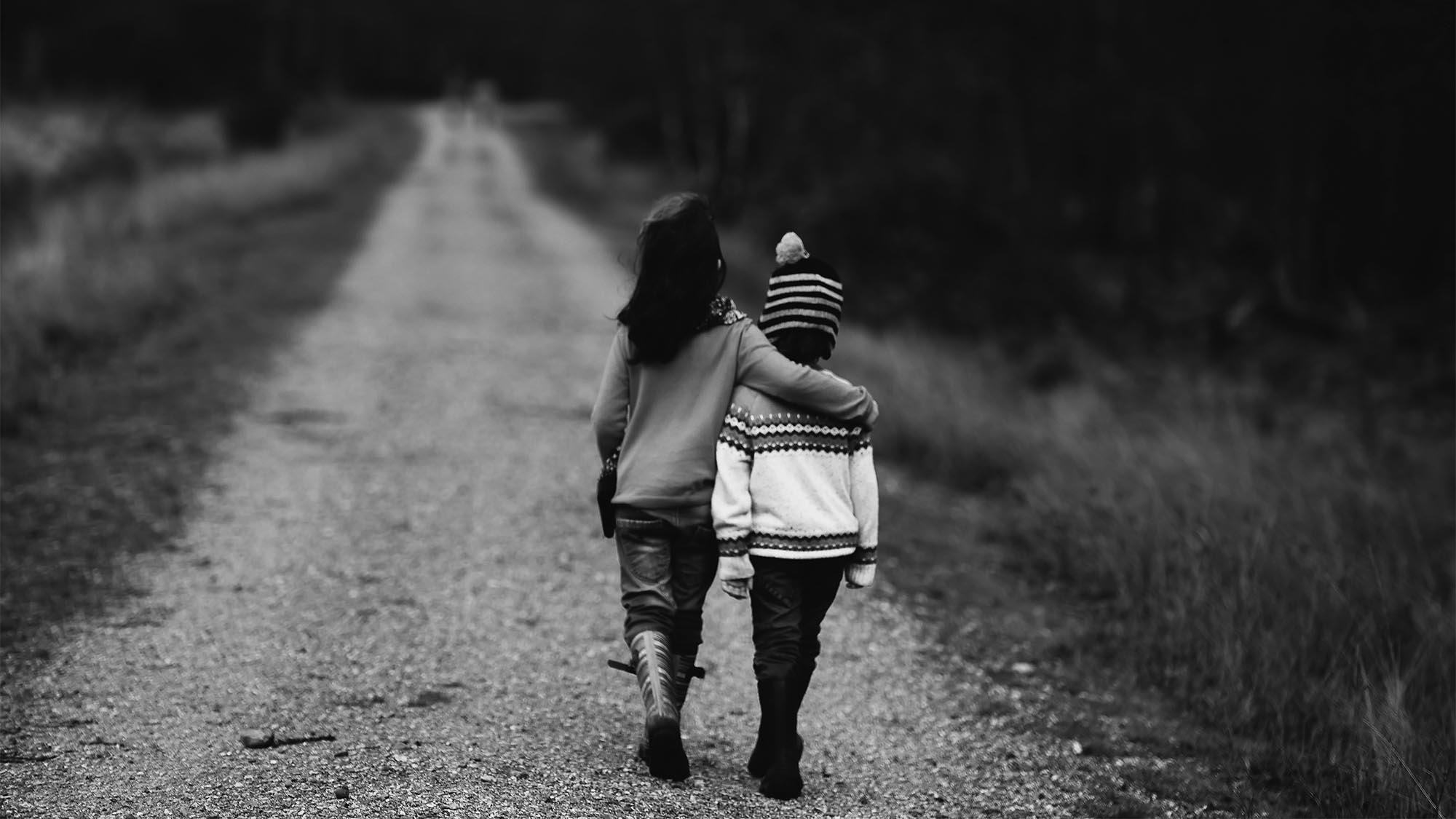 We're here to support you
Our experts are on hand providing email support to help you on your way.
Assignments and Competitions
Develop your skills further in our Assignments and Competitions.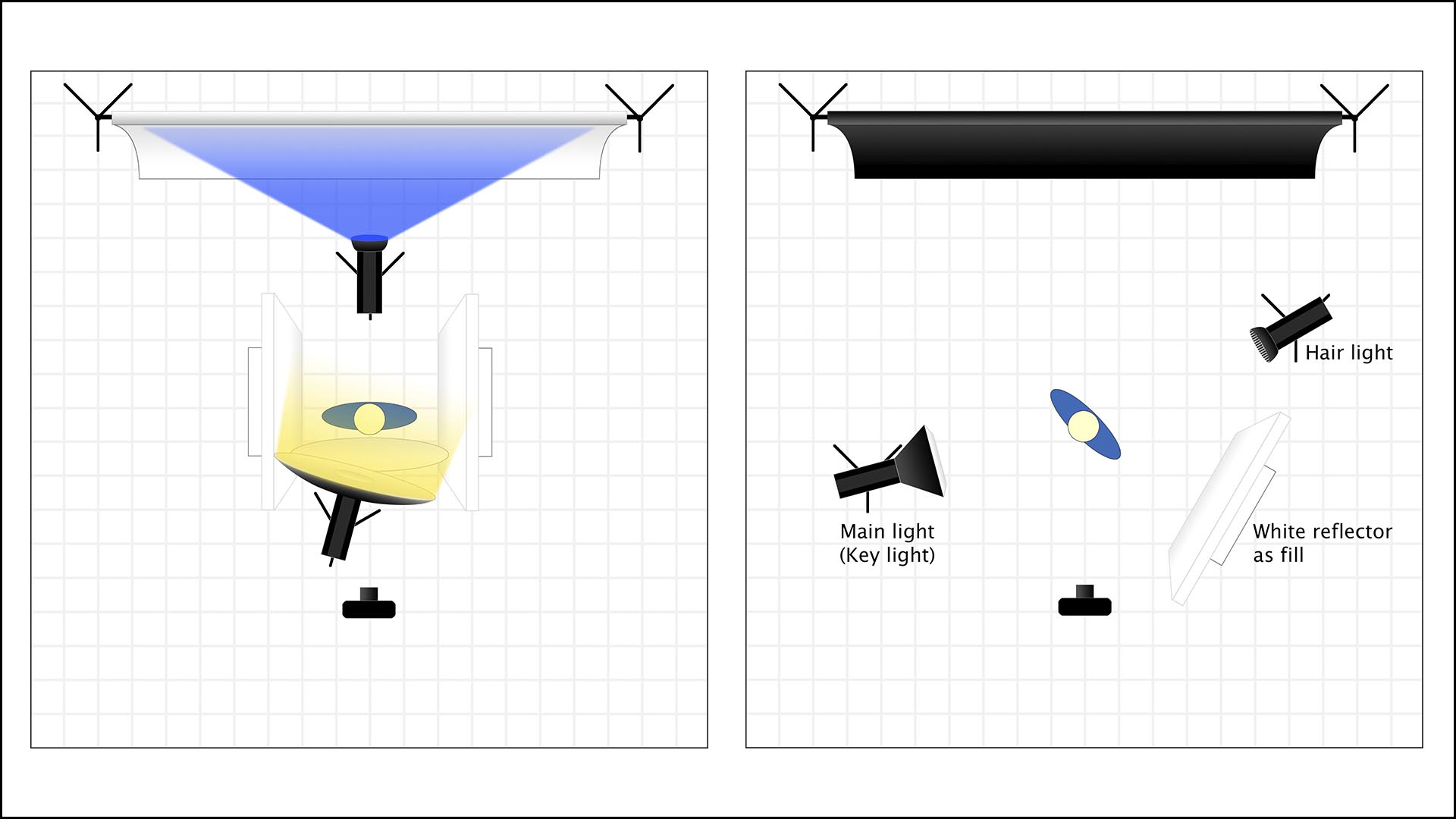 Loads of lighting set ups!
You'll get a bank of lighting set ups that can be easily recreated in your studio to get professional looking portraits.
We have 100% confidence in our courses!
We offer a no-risk solution here at the School of Photography - If you don't learn anything, we will give you your money back! I offer this because I'm an educational speaker, author, I have a degree in photography, a post-graduate degree in education, I'm a fully qualified teacher and have been teaching photography since 2002. All of this experience goes into making these courses. We know that our courses will make you excellent photographers just like they have done for 1000's of others.
Full 60-day money back guarantee.
Why Choose TSoP?
• We don't just show you great photography – we teach you how to do it!
• Accurate and Thorough Knowledge
• Affordable and Accessible
• Watch Anytime, Anywhere
• Get Hands on With Practical Tasks
• Downloadable course content
Click below to see why 1000s of others across the world choose us to teach them photography.
TRY BEFORE YOU BUY - FREE PHOTOGRAPHY TUTORIALS
This is real learning delivered by Professional Teachers!
I've been teaching photography since 2002, I'm a fully qualified UK teacher, an educational speaker, author, have a photography degree and a post-graduate degree in education. All of this experience goes into bringing you the best education money can buy.
If you want to build a photography career, or just have the ambition to create great photos, TSoP is a great place to start.